0
Why is Tumblr trending?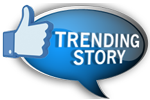 The New York Times has reported that Yahoo! will be purchasing Tumblr for $1.1 billion. CEO of Yahoo!, Marissa Mayer, has confirmed the news by posting a GIF expressing the matter on her own personal Tumblr blog. "The product roadmap, their team, their wit and irreverence will all remain the same as will their mission to empower creators to make their best work and get it in front of the audience they deserve," Mayer writes.  "Yahoo! will help Tumblr get even better, faster."
Tumblr is a website where you can create your own personal blog for free. Most blogs on Tumblr do not contain deep thoughts or expression of words, but rather pictures and GIFs that are bound to be reposted. Yahoo! will obtain the 108 million blogs on Tumblr.