0
Why is NASCAR trending?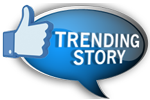 Former NASCAR driver Dick Trickle has reportedly committed suicide at the age of 71. Trickle called police to let them know that there would be a dead body at the Forest Lawn Ceremony in Lincoln Country and that the body would be his. When emergency responders arrived, they found Trickle's body with a self-inflicted gunshot wound to the head near Trickle's pickup truck. A suicide note written by Trickle was found at the death scene. Family and friends close to Trickle told authorities that he had been sick and depressed for a while. Trickle is best known as a short-track racer and his signature was to smoke cigarettes while he raced.
More information on Dick Trickle from Wikipedia:
In more than an estimated 2,200 races, Trickle logged one million laps and is believed to have won over 1,200 feature races. He was billed as the winningest short track driver in history.[2]Trickle's career highlights include racing to 67 wins in 1972,[3] winning seven ARTGO Championships in nine years between 1979 to 1987, winning back to back ASA AC-Delco Challenge championships in 1984 and 1985, the 1968 USAC Stock Car rookie of the year, and winning the 1989 NASCAR Rookie of the Year award in what was then called the Winston Cup (nowSprint Cup). Trickle was nicknamed the "White Knight" as referenced by his sponsored SuperAmerica paint scheme, when he raced in Wisconsin.[4]