0
Why is Miguel trending?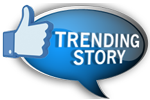 The unfortunate events at the Billboard Music Awards keep piling in. This time, musical artist Miguel was performing on stage and decided to hop to a platform by jumping over fan's heads. Here at Trendingstory.com, we are almost certain that the two women who got their heads stuck under Miguel's thighs are not fans anymore. One of the two fans got it worse when Miguel used his right leg to leg drop the woman right into the stage. When Miguel landed bottom first onto the stage, he continued singing and possibly did not even notice the damage he had caused. Please take a look at the video below and let a man who sounds similar to Ludacris deliver some hilarious commentary to the horrible situation:
Miguel did meet up with one of the women backstage after his performance and helped her ice her injuries. Here's more information on Miguel from Wikipedia:
Miguel Jontel Pimentel (born October 23, 1985),[1] who performs under the mononym Miguel, is an American recording artist, songwriter and producer. Signed to Jive Records in 2007, Miguel released his debut album, All I Want Is You, in November 2010. Although it was underpromoted and performed poorly upon its release, the album became a sleeper hit and helped Miguel garner commercial standing.[5][6] After Jive's dissolution in 2011, he moved to RCA Records and released his second album Kaleidoscope Dream in 2012 to critical acclaim.