0
Why is Hugh Hefner trending?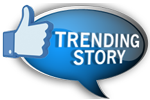 The 87-year-old legend, Hugh Hefner, recently purchased a multi-million dollar estate with his 27-year-old wife, Crystal Harris. A hefty chunk of change came out of Hefner's pocket in the amount of $5 million. The details of the house are that it's a 5,900-square-foot Hollywood Hills mansion, has four bedrooms, five baths, an infinity pool and some nice scenery to look at. Here's a little bit of trivia for you the next time you host Jeopardy night at your place: Hefner doesn't own the PB mansion per se, he only rents while PB Enterprises technically owns it. Neither of them plan to leave the PB mansion anytime soon, though.
Hefner and Harris have been engaged since December 24th, 2010, and they've only been married for less than five months. Trendingstory.com thinks this can all be summed up through a song by Mr. West.
More information on Crystal Harris from her Wikipedia page:
Crystal Hefner (née Harris; born April 29, 1986)[3] is an American-born, British glamour model, singer and television personality. On December 24, 2010, she became engaged to Hugh Hefner, to become his third wife.[4] Harris broke off the engagement on June 14, 2011, five days before their planned wedding.[5]The two reconciled in early 2012 and also married in a small ceremony on December 31, 2012.