0
Why is Hands Free Whopper trending?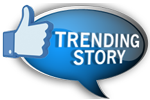 The 50th anniversary of Burger King opening in Puerto Rico leads to the worldwide chain restaurant unveiling one of the craziest contraptions you'll ever lay your eyes on. Burger King thought it was a good idea to keep your hands free while you're eating your burger, and came up with a holder for the famous Whopper. The holder is somewhat like a necklace, as it's placed around your neck, and the Whopper holder allows the burger to be within reach of your mouth. Here is a commercial showing off the hands free Whopper holder that went viral on the Internet:
Multitasking is always nice but this may be going too far. Do we really need to do all the things that were multitasked in this video while eating? I suppose in the fast world that we live in, there's little time to spend eating anymore. There was no word by Burger King of a price tag on the hands free Whopper holder or if it'll be making its debut in any other part of the world anytime soon.