0
Why is Google Breakup trending?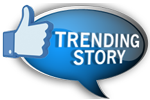 Google Street View is a technology featured in the Google applications Google Maps and Google Earth that provides panoramic views from positions along many streets in the world. There's never been a real specific use for the feature unless you want to scope out what the street or house you're searching for looks like (kind of creepy if you ask me), but for whatever reason Google believed that grabbing images of the world's streets via satellite was a good investment. During the course of its six year existence, Google Street View has taken a magnitude of unexpected pictures and a new one has just been discovered. The latest image found shows a young woman on the side of the road with all her belonging on the curb.
This picture was uploaded to Reddit by a person who claimed to be the friend of the man who threw all his ex's belongings to the road. The poster wrote the description "The glorious moment when my buddy kicks his now ex-gf out of his house." under the photo. Damn, that guy has some personal problems when it comes to relationships or something. The woman's identity is unknown but thanks to Google Street View we know that this picture was taken somewhere in Southern California.