0
Why is DVD Pizza Smell trending?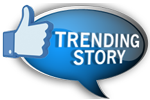 A branch of Domino's located in Brazil has released DVDs that smell like their famous pizza. This is in fact real and as proof, a picture of one of the DVDs can be seen below:
Domino's have turned the hottest movies, such as "Argo", "Dread", and "The Dark Knight Rises" into a DVD that looks like a hot pie. In order to give off that pizza-like smell, each DVD is stamped with thermal ink and flavored varnish. Varnish, which is resin dissolved in a liquid for applying on wood, metal, or other materials to form a hard, clear, shiny surface when dry, heats up while the DVD is quickly spinning in the DVD player. At the end of the movie, a message appears saying, "Did you enjoy the movie? The next one will be even better with a hot and delicious Domino's Pizza." and when ejecting the DVD, the fumes of pizza are very apparent.
Do you think marketing has gone too far by making the movie-watcher hungry for some pizza? Leave a comment down below to let us know!