0
Why is Chris Rock Eminem trending?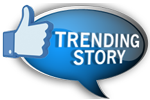 Chris Rock was found out of his natural habitat today. You may think that the man spends all of his time on top of a stage trying to make an audience laugh or acting in a movie, but Chris tweeted from a recording studio — right next to Eminem! Ironically, this wouldn't be the first time we've heard Chris lend his vocals to the rap game. He featured on Kanye West's album "My Beautiful Dark Twisted Fantasy" in 2010 and more recently did a parody rap battle video with Super Hot Fire that you can find on YouTube. Something doesn't seem right about this picture that Chris Rock posted, though. Take a look:
In the studio with Em don't sleep http://t.co/j2WPCktQzf
That doesn't look like Eminem in my opinion… but Eminem went from being a whiteboy with short, blond hair to a more sculpted face man with brunette hair so maybe this is the in-between Eminem we've never seen before. Chris Rock also called him, "Em". Who knows, this could be a totally different rapper who's trying to be the Slim Shady that stands up. It was reported by Dr. Dre that Eminem will be releasing a new album sometime this year and is hoping for a summer release. We'll know shortly if Chris made it onto the album or not.