0
Why is Candice Glover trending?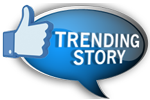 Season 12 of American Idol came to an end the other night and the next Idol champion was announced. Candice Glover, 23 from South Carolina, was the first R&B singer to become an Idol champion since Fantasia in 2004. This wouldn't be the first time Glover has appeared on American Idol. She was eliminated during part three of Hollywood week during season 9 and eliminated yet again at the Las Vegas round during season 11. Throughout the years, Glover has gained quite an audience from the American Idol crowd and her loyals were enraged when she went home during Season 11.
"Three years!" is all that Candice could say when she was announced the winner. For her ceremonial song, Candice sang her personal single "I Am Beautiful", which quickly hit the iTunes stores after her performance.
More on Candice Glover from Wikipedia:
Glover was born in Beaufort, South Carolina to John and Carole Glover, and is the oldest of five siblings.[2][3] She graduated from Beaufort High School in 2008.[4] Before Idol, Candice was an insecure person. She didn't think she was all that beautiful as she struggled with her weight. In an interview, she said she had to have counseling at school because of her insecurity problems. When Idol ends, Candice says she wants to be a teacher to help girls through what she went through as a young teen.