0
Why is Angelina Jolie trending?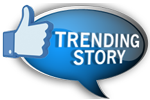 Angelina Jolie appeared by Brad Pitt's side on the red carpet at the London premiere of "World War Z" a couple nights ago. This was her first appearance in three months because Jolie had undergone a double mastectomy, which is a surgical procedure to remove a breast. Jolie revealed that doctors said, "They estimated that I had an 87 percent risk of breast cancer and a 50 percent risk of ovarian cancer."
Brad Pitt plans to marry Angelina Jolie soon. Currently Jolie is taking it easy at her Los Angeles home before she begins directing her next film, titled "Unbroken". The movie is centered around World War II survivor Lou Zamperini and will be rewritten by the Coen brothers.